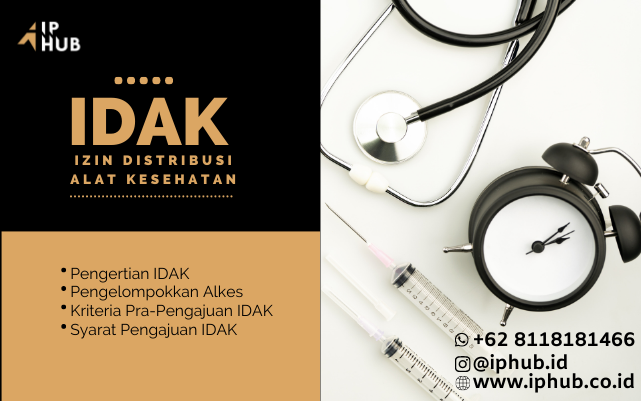 Medical Device Distribution Permit
Medical Device Distribution Certificate (IDAK)
The Medical Device Distribution Certificate (IPAK) is a legal guarantee and legitimacy issued by the Ministry of Health of the Republic of Indonesia. To certain organizations or agencies that must be met in order to have the right to distribute medical devices. Removing medical devices and their technology must have a distribution permit and distribution permit. It is difficult to receive this certificate. It is also not arbitrary because certain companies or institutions must be registered with the relevant Ministry. Both in terms of the company's establishment and from a medical perspective, health plus the perspective is closely monitored so that there is no misuse of the distribution of medical devices that are not appropriate and timely.
Health Distribution Distribution
Medical Device Distribution Certificate (IDAK)
Medical devices do not only talk about clinical aspects but also involve a medical perspective, and the two are closely related. (IPAK) is here to provide certainty that medical devices ensure their presence is right on target, including medicines. Misuse of medical devices does not only occur in the aspect of high-level types of hard drugs. But it also concerns the misuse of the distribution of other medical devices such as masks, intravenous fluids, oxygen cylinders, and others that have been misappropriated. Here is the shape of the distribution channel:
Producer Source
Medical device manufacturers as holders of medical device distribution certificates (IPAK) play an important role as the main controller before falling into the hands of the medical device distributors themselves. The health producer concerned has been studied in depth in all aspects by 2 (two) relevant Ministries so that the potential for fraud can be suppressed. The perspective of technology, raw materials, and human resources must also be studied intensively because they are related to the lives and health of the wider community. Processing and processing must comply with international standard procedures. The institution concerned is required to have ISO management as a form of management quality that is more than capable.
Distributor Source
Official distributors must be legal entities and have a medical device distribution certificate (IPAK) that is valid and convincing plus has the right to distribute them to suppliers. Even though they are not manufacturers, Distributors together with suppliers ensure that there should be no hoarding of medical devices and guarantee their distribution channels. Health distributors also ensure that suppliers must have official and legal permits issued by related parties. Apart from the distributors themselves. Distributors are required to monitor their members (suppliers) in order to conduct medical device trade interactions honestly, openly, and transparently to consumers. In accordance with the Regulation of the Minister of Health Number 1191/Menkes/Per/VIII/2010 concerning the Distribution of Medical Devices, that the distribution of medical devices can only be carried out by facilities that already have a Medical Device Distribution Permit (IPAK) and must be carried out in accordance with the provisions concerning the Distribution Method of Medical Devices Good (CDAKB) and Permenkes No. 14 of 2021 concerning Standards for Business Activities and Products in the Implementation of Risk-Based Business Licensing in the Health Sector
Based on the capabilities of the distribution facilities of medical devices, the Medical Device Distributor Permits are grouped into 5 (five) types, namely:
1. Radiation Electromedical Medical Devices
2. Non-Radiation Electromedical Medical Devices
3. Sterile Non Electromedical Medical Devices
4. Non-Sterile Non-Electromedical Medical Devices
5. In Vitro Diagnostic Products
IDAK Pre-Submission Criteria
Every business entity that wants to get the permit must have a Physical office, Warehouse, Workshop (for Groups 1,2 and 5), Virtual Offices or Faking addresses are not allowed, and also every business entity is required to have a Technical Person in Charge (PJT), Education PJT must be adjusted to the medical equipment group to be distributed, the regulation is stated in Permenkes 14 of 2021.
The requirements for submitting IDAK are:
1. Business Entity
2. Have a Deed and SK
3. Effective TIN
4. Latest NIB
5. Fill in the Requirements Form through OSS RBA
6. Attach photos of buildings, rooms, building layouts, and other equipment.
7. Attach other requirements
This system was built to facilitate public services in the licensing process which issues Certificates for Production of Medical Devices and Household Health Supplies (PKRT), Medical Device Distributor Permits (PAK Permits) as well as Distribution Permits for Medical Devices and PKRT Products. Of course, it will also facilitate the process of obtaining permits in the modern era. With the proliferation of medical devices that have licensing standards by providers/companies that have good standards in accordance with applicable regulations, it will certainly have a positive impact on the economic development of the community in the world of health and also have a positive impact on services. health in Indonesia.
https://kliklegal.com/ini-senomor-regulation-penting-yang-setting-pengawasan-alat-kesehatan-di-indonesia.
http://www.regalkes