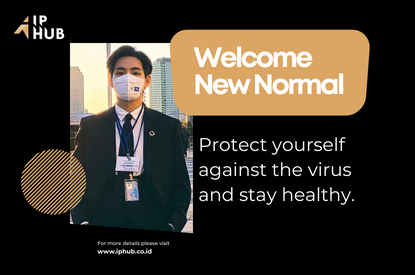 IPHub's New Normal
PSBB has just ended, people are returning to their workplaces, the roads and streets in Jakarta start to flood with its denizens. Seems like a breath of fresh air after being cooped up in our houses/apartments/dorms for the last three months. Sadly, just after the first day of lockdown Indonesia saw a spike of 1000 new cases of Covid on the first day, an increase in almost 300% from the usual 300-400 new cases a day. What does this mean for IPHub and other businesses? It means there must be new social contracts to be adhered to, new common place behaviors to follow, we need a new normal.
Luckily, the government has already released some standard guidelines for businesses to follow to mitigate the spread of second wave Covid. These range from simple rules such as; social distancing, compulsory facemasks, readily available hand sanitizer dispensers, and vehicle restrictions, to more complex initiatives such as; thermal scanning stations, comprehensive sanitation protocol, and accessibility to Covid testing kits. It is our jobs as citizens to not only be aware of these new systems in place, but also to abide by them as best we can. All it takes is one person to spread to Covid to hundreds in a packed city such as Bandung, Denpasar, Surabaya, and of course, Jakarta. We must take every pre-caution possible to minimize the possibility of a second outbreak.
At IPHub we are doing our best to not only follow the requirements suggested by the government, but also taking adding extra steps to ensure the safety and wellbeing of our customers and staff. In the coming weeks we hope to provide our guests and staff face shields to minimize transmission via communication ,we also plan to minimize prayer rooms to one person at a time, while also providing strict cleaning schedules to make sure each room is sanitized after use. Food delivery is such an integral part of office culture in Indonesia, it is already strictly forbidden for delivery drivers to enter IPHub premises, rather guests will have to pick up their order in a designated location, with a mask and or face shield. If you are a business owner it is your responsibility to take care of the wellbeing of not only your staff, but also the clients you serve.
IPHub has also recently donated 200 PCR test kits to RSCM- FKUI, we believe that we must put our money where our mouth is, and any help we can provide to those fighting Covid will go a long way for Indonesia's recovery. These PCR tests were procured from, AStar Singapore, and have over a 95% efficacy rating. IPHub has spent a lot of time and resources in researching and procuring these kits, we even ended up creating our own medical division, HALA. Through HALA we hope to keep supporting local medical institutions through the importing of top of the line medical equipment. Our goal is to better equip ourselves and Indonesia for any future epidemics while also providing a higher standard of sanitary care to our growing company.
Though times are tough, it can be tempting to jump back into a "back to normal" mode, we all have to stay cautious and keep being aware of Covid. Where there are problems there are people fighting to fix those problem, we all must learn to leverage these challenges for our business to move forward. Adaptation takes time, but until a vaccine is developed and deployed, we all must do our best to set a new standard of business conduct.
I will leave a link below to our complete list of strict guidelines we are going to implement below, hopefully it can be a start of a trend in these tough times, and please contact us to give feedback on our efforts to reduce the Covid transmission rate.