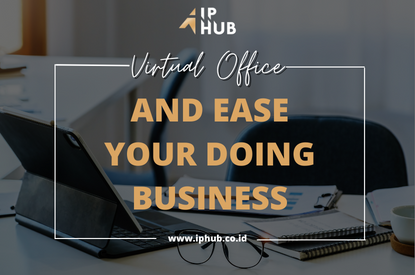 VIRTUAL OFFICE AND EASE OF DOING BUSINESS
Virtual offices like a trend for businessmen. Actually, what is a virtual office? Virtual offices have a meaning part of the flexible workspace industry that provides business addresses with various service facilities without having to lease physical offices. The purpose of leasing a virtual office is to get a prestigious office address without having to lease a physical office space.
Is using a Virtual Office legally permissible? Using a virtual office to have a company address does not violate the law. According to article 5 of Law No. 40 of 2007 concerning Limited Liability Companies ("Company Law") which reads as follows:
The Company has a name and domicile in the territory of the Republic of Indonesia determined in the articles of association.
The Company has a complete address in accordance with its domicile.
In correspondence, announcements issued by the Company, printed matter, and deeds in case the Company becomes a party must state the full name and address of the Company. The domicile is the legal domicile)of the Company.
The advantage of using a virtual office is save on physical office lease fees, businessmen also have more benefit by not to face traffic to the office, because work can be done anywhere and anytime. Virtual office tenants will also get facilities like a physical office, such as:
Procurement of telephone numbers for companies;
Operators who receive and send back (forward) letters to tenants;
Operators who send notifications to the tenant's private phone, if someone calls through a virtual office number;
Meeting rooms that can be used every month;
Some virtual offices are now equipped with facilities such as company establishment consulting, tax consulting, IT consulting, bookkeeping, and cafe discount vouchers in collaboration with virtual office providers.
IPHub as a provider of virtual office services has various facilities needed by tenants. Start from virtual office lease, facilities such as free use of meeting rooms, company telephone numbers, receipt and delivery of documents, notification by telephone, company establishment consultants, tax consultants, IT consultants, bookkeeping, and discount vouchers in cafes. If you start to expand your business and need physical office space, IPHub also provides physical office leases and shared work spaces. Are you interested in using IPHub services?
Please contact us via:
Address : Jalan Cikini Raya No.9, Menteng, Central Jakarta.
WhatsApp : 0811 8181 466
Email : marketing@iphub.co.id.
Phone : 021 398 350 89