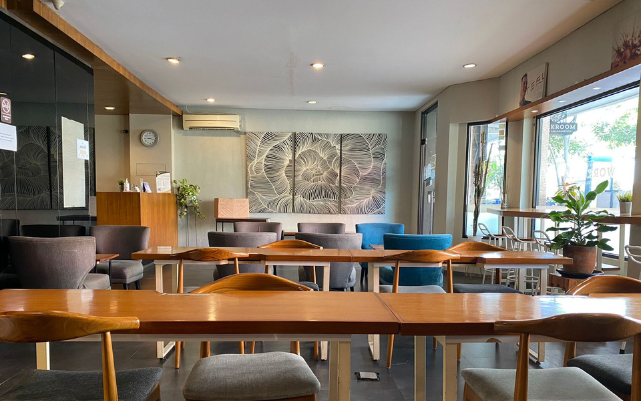 WORK SPACE IN A COFFEE SHOP
We can view that many workers have been changing their working habit from an office space to a co-working space or a coffee shop since a decade ago. Some people feel that they find difficulty working in a typical working space with dividers or cubicles. Also, an article on healthline.com mentioned that a cup coffee can make someone happier. Therefore, those facts are the reasons why these workers find great coffee from the best coffee shop in town. Moreover, in a coffee chop they could find
friendly atmosphere and meet new relations. There is two main reasons why a café or a co-working space becomes the choice for this type of people.
MEET NEW PEOPLE

A cup of coffee can stimulate a conversation at a coffee shop. Mark O'Renick said it when he had interview session with kmbc news. Mark's statement could be an evidence that a coffee shop can create friendly atmosphere to start a conversation with strangers or new people. For example, someone can begin a conversation by asking about others' favourite coffee and they continue to another topic. This positive atmosphere could be an advantage for someone who is looking to build a network.

LESS MONOTONOUS ATMOSPHERE

Monotonous atmosphere is another issue especially for the so-called 'right brain' people who demand creative atmosphere. Studies have shown that a place with moderate level of ambient noise, such as the clattering of plates or the whir of a coffee machine, improves performance on creative tasks.

AUDIENCE EFFECT

The coffee shop ambient can help people to be more creative. If we visit several coffee shops in Jakarta, several workers may work there. This situation occurs because they may get more flexibility when they have to meet several clients and subsequently to reduce commuting time. Also, an article published by newsscientist.com describes that the level of ambient noise made by the same type of people working or having a discussion at a coffee shop can enhance someone's creativity.

Meet new people, less monotonous atmosphere can be a reason why a café as a working space is changing the working style. Therefore, the establishment of a café as a co-working space such as Workroom Coffee at IPHub helps those types of people to be more creative. Furthermore, what makes Workroom Coffee even more convenient to work and to collaborate is that Workroom has all the business functions an office has, such as a copy machine and an operator.